Claudie in French West Coast. She's tired of sitting on her desk chair watching the clock ticking, having a staring match with the pigeon on the roof across the street, standing in front of the coffee machine which has broken down for the third time in a day…
She wishes to leave Paris, to go far away but not so far away because she is quickly homesick. She wants to decompress, to discover other species of birds, to drink something other than the hazelnut coffee of the lunatic machine. All she wants is a change of environment.
I offer to take her to the gentle landscapes of the West Coast in France. I reassure her and tell her: « To leave, don't panic, you'll need to ask your boss for a leave of absence (yeah I know it's not easy) but also sun cream, a bathing suit, a big book, flip flops (preferably not broken), sunglasses (not the ones for cycling of course), an instant camera, photo rechargers, and I almost forgot your wonderful ID card (yes the one with your most beautiful smile). »
Fasten your seatbelt, you're coming in French West Coast
« Madam, Sir, we are about to land, please return to your seats and fasten your seat belts. Please make sure your carry-on luggage is located under the seat in front of you or in the overhead bins. The current temperature is 20 degrees and the water temperature… we'll let you find out. A few sharks have been seen offshore but don't worry, Pamela Anderson and David Hasselhoff are there to protect you. We wish you a pleasant stay on the west coast of our sweet France. Thank you for choosing our company. »
What do we do now in French West Coast?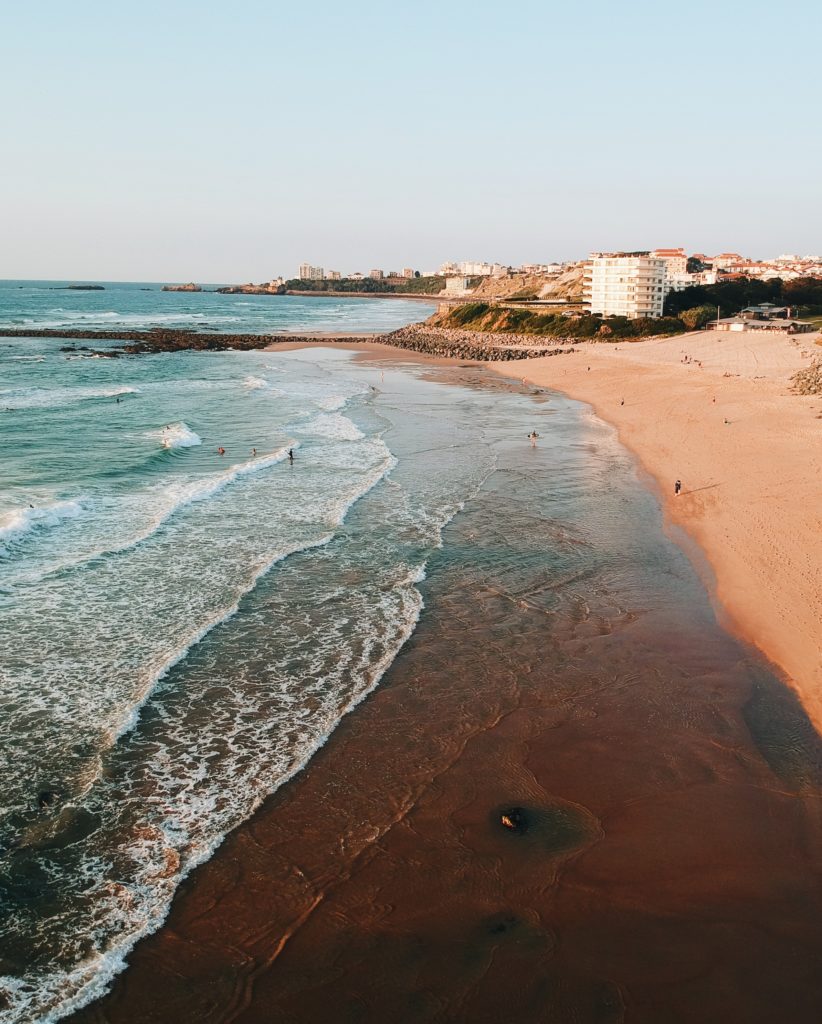 Biarritz is a splendid seaside resort, nestled in the Bay of Biscay, in the southwest. It's always a lively town, with beautiful scenery, ocean-flavored restaurants and some well-sculpted surfers.
You'll see, Claudine, this charismatic city is sure to leave you with precious memories.
Although you can spend the whole day lounging on the beach, I recommend that you stop by the lighthouse at Pointe Saint-Martin. It is an old building dating from the 19th century and reaches a height of about 40 meters. It dominates the city, perfect for taking nice pictures. You can also go to the viewpoint of the Atalaye. It's an incredible observation site that offers you an unobstructed view of the Grande Plage or the Barrière casino (don't spend all your money). Well, you'll quickly understand once you're on the beach, but surfing is a must. I suggest you put yourself in the shoes of Kelly Slater and tame the waves with a nice Quiksilver, Billabong or Rip Curl board. To finish, you can walk along the waterfront to discover the fishermen's port. There are a number of restaurants in the area that offer seafood dishes.
It was Claudie in French West Coast.
Practical informations
The airport of Biarritz-Anglet-Bayonne is located only 2 km south-east of Biarritz, which is very convenient and the offer of accommodation is large, going from the city center to the Beaurivage district and even in the Saint-Charles district.
So, are you convinced?
If you want to see more information about Biarritz go have a look on : https://www.biarritz.fr
You can also go have a look on my others articles such as « Le marketing branché à l'air du web »