I'm persuaded that every Sunday begins with pancakes… and ends with pancakes from the morning. Do you agree with me? Today, I will deliver you my recipe of fluffy and delicious pancakes. With this recipe, your weekends will never be the same again and your humor of the day too! My fluffy pancakes, does it tempt you?
What are the ingredients in my cart?
2 large eggs
1/4 cup butter, (60g | 2 oz)
3/4 cups milk, (440ml)
2 teaspoons pure vanilla extract
2 cups all purpose | plain flour, (290 g | 10 oz)
1/4 cup granulated sugar or sweetener, (60g | 2 oz)
4 teaspoons baking powder
1/4 teaspoon baking soda
1/2 teaspoon salt
What are the steps of the preparation?
First you have to melt the butter. Then you mix all the dry ingredients (flour, yeast, sugar). Make a well and add the eggs and the melted butter. You can add a little liquid vanilla and the milk little by little. The dough must be homogeneous and without lumps.
Let the dough rest for an hour (PS: I let it rest overnight).
Melt a little butter in a hot pan and form small circles with the dough.
So I let you taste my fluffy pancakes, does it tempt you?
Nutrition informations
Calories: 156kcal | Carbohydrates: 22g | Protein: 3g | Fat: 5g | Saturated Fat: 3g | Cholesterol: 27mg | Sodium: 152mg | Potassium: 208mg | Sugar: 6g | Vitamin A: 195IU| Calcium: 104mg | Iron: 1.1mg
So get cooking, Sunday cooks.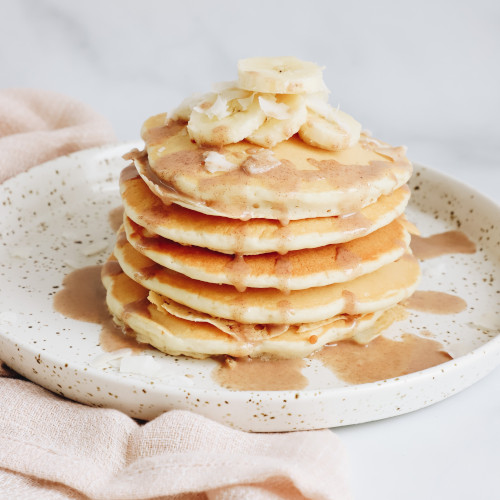 If you want to discover some variant recipe : https://www.delscookingtwist.com/fr/pancakes-a-la-banane/
You can also take a look on my other articles :